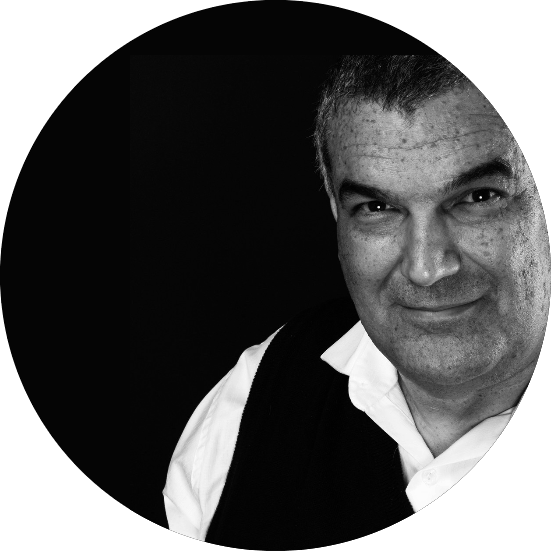 Born in Haifa, in 1955, Israel, Ofer Ben-Amots gave his first piano concert at age nine and at age sixteen was awarded first prize in the Chet Piano Competition. Later, following composition studies with Joseph Dorfman at Tel Aviv University, he was invited to study at the Conservatoire de Musique in Geneva, Switzerland. There he studied with Pierre Wismer and privately with Alberto Ginastera. Ben-Amots is an alumnus of the Hochschule für Musik in Detmold, Germany, where he studied with Martin C. Redel and Dietrich Manicke and graduated with degrees in composition, music theory, and piano. Upon his arrival in the United States in 1987, Ben-Amots studied with George Crumb at the University of Pennsylvania where he received his Ph.D. in music composition. Currently Chair of the Music Department at Colorado College, Dr. Ben-Amots teaches composition, music theory, and a wide variety of liberal arts subjects.
Ofer Ben-Amots' compositions are performed regularly in concert halls and festivals Worldwide. His music has been performed by such orchestras as the Zürich Philharmonic, Munich Philharmonic, the Austrian Radio Orchestra, Bruckner Orchestra, Moscow Camerata, Heidelberg, Erfurt, Brandenburg, the Filarmonici di Sicili, Milano Chamber Orchestra, Brooklyn Philharmonic, the Concerto Soloists of Philadelphia, North/South Consonance in NY, Portland Chamber Orchestra, and the Colorado Springs Philharmonic among others. His compositions have been professionally recorded by the Gewandhaus Orchestra of Leipzig, the Munich Chamber Orchestra, the Barcelona Symphony, Odessa Philharmonic, the BBC Singers, and the renowned Czech choirs Permonik and Jitro. Ben-Amots has received commissions and grants from the MacArthur Foundation, Fulbright Foundation, Amado Foundation, Schleswig-Holstein Musikfestival, Fuji International Music Festival in Japan, Delta Ensemble from Amsterdam, Assisi Musiche Festival, the Geneva Camerata and many others.
Ofer Ben-Amots is the winner of the 1994 Vienna International Competition for Composers. His chamber opera, Fool's Paradise, was premiered in Vienna during the 1994 festival Wien modern and has become subsequently part of the 1994/95 season of Opernhaus Zürich. He is recipient of the 1988 Kavannagh Prize for his Fanfare for Orchestra and the Gold Award at South Africa's 1993 Roodepoort International Competition for Choral Composition. His Avis Urbanus for amplified flute was awarded First Prize at the 1991 Kobe International Competition for Flute Composition in Japan. In 1999, Ben-Amots was awarded the Aaron Copland Award and the Music Composition Artist Fellowship by the Colorado Council on the Arts. In 2004 he won the Festiladino, an international contest for Judeo-Spanish songs, a part of the Israel Festival in Jerusalem. In 2015, Ben-Amots won the First Prize at the 4th Smareglia International Composers Competition in Udine, Italy. His innovative multimedia opera, The Dybbuk, has been produced in over ten different productions in the US, Germany, and Israel. The opera has been described as "a uniquely beautiful and powerful new work" and its production as "a service to music and to what is best in our humanity" (Listen for Life Reviews, by Donna Stoering, September 30, 2016.)
Ofer Ben-Amots' works have been repeatedly recognized for their emotional and highly personal expression. The interweaving of folk elements with contemporary textures, along with his unique imaginative orchestration, creates the haunting dynamic tension that permeates and defines Ben-Amots' musical language. His music has been published by Baerenreiter, Kallisti Music Press, Muramatsu Inc., Dorn, and The Composer's Own Press. It can be heard on Naxos, Vantage, Plæne, Stylton, and the Milken Archive of jewish Music.